Have you ever woken up in the morning and your ab's were sore, but you didn't remember why?
48 hours before ...
I was feeling super lazy one night, I mean to the point where I was starving hungry, but still had zero motivation. Like the grown mature woman that I am I curled up in a ball in a small corner of my 500 sq. ft. apartment and started to whine. The hubs finally noticed and came over to check what all the hub bub was about. He picked up my my limp body and asked, "what's wrong with you"? "I'm hungry, can you make me food?" I said in a slow slurred speech to of course emphasize my lifeless energy ridden body.
I guess I really must explain. Part of my laziness was from the fact that I had no idea (or food for that matter) about what to make for dinner. Earlier in the evening I even asked for advice in the matter. I pleaded, "what should I eat?" He made no attempt at a decent suggestion. I often used to ask my mom this question when I was growing up. Sometimes she would get so frustrated at my rejection in her food ideas that she would eventually explode and scream out, "what do you want from me, HERE (shoving her forearm in my face) take a bite of my arm already!", or something to that effect. In my opinion, most every meal has to be something I really want to eat; otherwise, what's the point of eating? I don't want to waste the calories on boring meals. Anyway, back from that tangent ... all this lead up to my extreme behavior in the corner.
Of course like a good husband, he finally came up with a suggestion I had not thought of. "Hey we have that polish sausage in the fridge!" Oooo, nice, I was totally excited, "can you fry that up for me?" And so this was to be my dinner. I know, WTF, right. Well, then he made a second suggestion to accompany the sausage, "hey you want a peanut butter sandwich?" hmmm interesting combo. I mean totally off the wall; who eats sausage with a peanut butter jelly sandwich?! Weird, but the sweetness of the jelly and the saltiness of the sausage sounded reasonable.
I scarfed down the deliciousness, but couldn't finish all the sausage, it was so damn greasy. I went to bed thinking, 'damn that was one greasy polish sausage'.
You know sometimes you have those dreams that meld with reality? Well I had a dream I kept waking up from my slumber because I was really nauseous. Well in reality I finally woke up in the middle of the night not feeling so hot. Ugh, I tried to ignore it and go back to sleep, but that shit was just not happening. There is only one way to get rid of that feeling; visit my friend Ralph.
The old Russian standby on quick an easy regurgitation involves one simple ingredient ... warm water. I will spare you the details, but I gulped down my fair share and several yakking sessions later, the yakking ceased and I was finally able to go to bed. Obviously the lack of sleep and bodily dysfunction meant there was no way I was going to work the next day. I got to relax, let my body recover and of course paint my nails.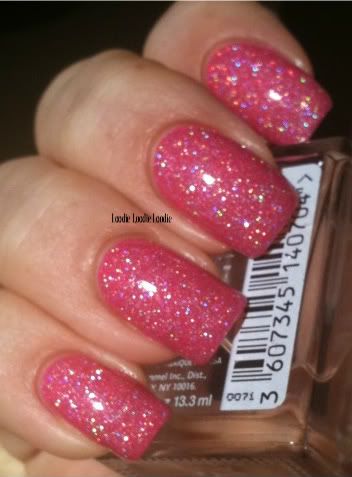 China Glaze - Rich and Famous
1 coat
Klean Color - Pink Holo 134
2 coats
In the sun and slightly blurry for your viewing pleasure.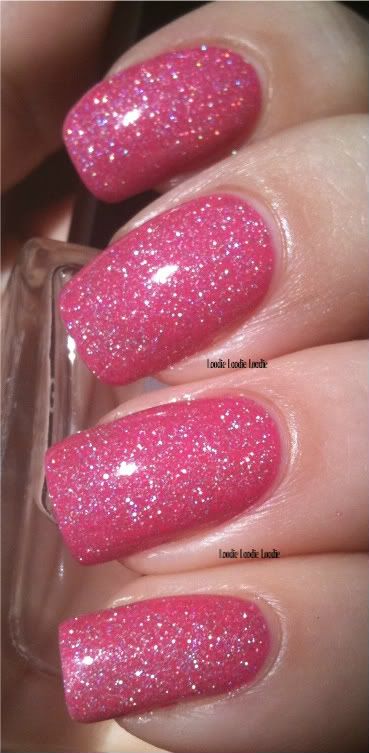 Indirect sun.
Wearing these KleanColor Holo's makes me feel like I have acrylic on my nails. They feel very thick and protected. I'm loving their thick jelly formula.
And so the very next day I woke up and my abs were sore and I eventually remembered it was the yakking session that gave me the impromptu ab workout. Thanks hubby for feeding me bad wiener!