I guess first things first. What's the point of topcoat?
The use of a topcoat provides enhancing qualities to a basic manicure. First, it provides extra shine, thus resulting in a very attractive clean look to the eye. Second, it has the ability to protect the colored polish underneath, which extends the life of a manicure. This is especially true if topcoat is applied every second or third day and the free edges are wrapped.
Now, with that being said, there are exceptions to this standard definition for a variety of reasons. The fact is, not all topcoats are created equal and neither are our nails. This is wonderful, yet frustrating when trying to find something that works.
I often get asked, "what is your favorite topcoat?". As much as I would love to rattle off a quick answer, it's complicated. I buy, use and rotate a good many topcoats regularly. Why? Because every topcoat I own has a purpose. I need them all!! Mwahahahah! Each gets used based on the results I wish to obtain. Therefore, I have a "favorite topcoat of the moment", based on my (or rather my mani's) needs.
In my mind, I categorize topcoats into a few groups:
1. Quick dry
2. Regular dry
3. Half quick half regular blends
4. Dual purpose (base and top) - usually have average drying time
5. UV cure - usually quick dry/cure
These categories vary of course in drying time, but ultimately it's all about the formula. The formula determines the dry time, wear, durability (how hard or soft it cures) and finish (shiny vs. super shiny). However, even formula can vary within one category; topcoat results will vary based on the different colored polish formulations we use them with AND our own physical nail characteristics.
I specifically talked about some of the pros and and cons of quick drying topcoats in
this post
and mentioned a small bit about the UV types. There are many things I can say on topcoats in general (hence the length of this post already), but today I want to show you that even a topcoat in the same category can vary with interesting results due to slight variations in formula and individual nail structure (
softer or harder nail plate
). Further, I'd like to show proof of concept of the following statement in the aforementioned post...
...
"Quick dry top coat formulations may
a.) be incompatible with certain polishes (or with your own nail chemistry) OR
b.) dry to a much harder finish in comparison to the flexibility of the nail or polish underneath.
Thus in both cases the polish is much more likely to chip because there is not as much "give" as in the natural nail."
....
On to the meat of this post ...
huh huh meat :P
<---click to giggle
Touch 'n Go (Brand: LRC) is a brand I found in an online nail supply store. Google and ye too shall find it.
A slight tangent, but when my bottles arrived, one was broken. I took a picture of the bottles that survived in front of this chemistry book. Coincidentally, it communicated my sadness about the recently deceased quite perfectly.
The other topcoat I'll mention today is Seche Vite. This is quite a well known brand so I won't elaborate.
Both of these topcoats can be categorized as
Quick Dry
.
The other player in this story is the nail polish color:
Shown as 2 coats, but it could have used a 3rd. This and my only other Ruby Kisses polish recently prompted me to buy a crap load more. I loved the formula and assumed others would be great. That remains to be seen. This picture is under lamp lightening.
It get's more vivid in the sun.
This was 3 coats. I absolutely loved the bright baby blue.
On to proof of concept:
Click the picture to enlarge!
Base: CND Toughen Up x2
Color: Ruby Kisses Blues Clue x3
Top: Touch 'n Go (LRC) x1
This is the second day of the manicure. You will see small cracks on each of the natural nails from the use of the Touch 'n Go topcoat. It reminds me of the
desert
. You can actually see the cracks in the previous "sun" picture as well. Click the pictures to enlarge.
The cracks are the worst at the stress points of the nail, where the nail would naturally bend if you applied pressure, more so at the tips less near the base of the nail/cuticle.
These cracks appear because the topcoat dries/cures very hard thus has very little give, while the nail underneath has more give (bends, has flexibility). When I am not sitting on the couch eating Bonbons, I do use my hands.
I don't use my nails as tools
, but my nails will bend and give during different tasks. They have the necessary flexibility to resists breaks. This topcoat, on the other hand, lacks flexibility; it simply cracks under the pressure. Interestingly, the polish does not chip completely off the nail plate. I suspect this is because the topcoat has adhered well to the colored polish which adhered well to my nail plate via the base coat. Kinda cool!
this post
. In this instance, I noticed cracking after about 6 days vs. 2.
This cracking phenomena will be more severe the greater the difference in flexibility between the nail and topcoat. People with very bendy nails using quick dry topcoats will experience more cracking. If they are not using a basecoat that works well for them, then the polish may also chip more quickly. Someone with very hard natural nails my not even notice a difference between quick and normal drying topcoats. Just to prove that point...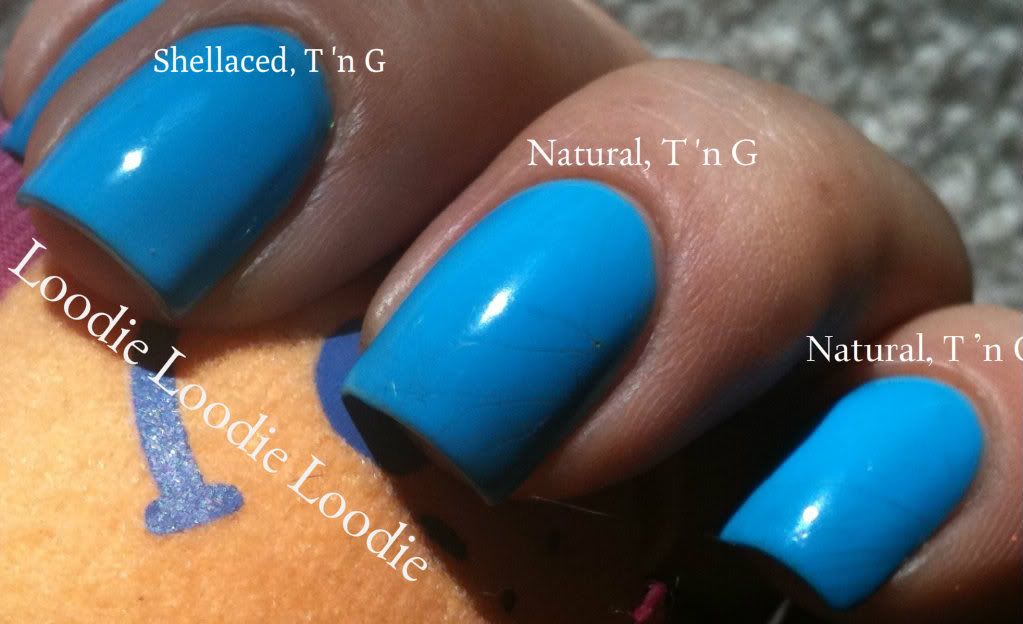 Click the picture to enlarge!
Here I have pictured the same manicure (same base, color and top) except one of the nails has been Shellaced before the manicure was applied.
Two of the natural nails are seen with cracks while the Shellaced nail is completely smooth.
I find Shellac to be a nice temporary way to protect the nail as it grows out after a break. That process can be seen in
this post
and
video
. Shellac is a soak off gel that is harder than the natural nail. The hardness of the gel makes the final nail surface hard and prevents the Touch 'n Go topcoat from cracking.
Out of curiosity, I re-did this manicure in exactly the same way changing only the topcoat.
To summarize: This post just goes to show that all of our nails are different and will experience varied wear and durability outcomes with different nail polish formulations and topcoats. We have to find a topcoat/polish combination that works well with our own nail plate characteristics.
There is sooooo much more I could say about topcoats, wear, durability, soft nails and wear etc etc etc. MIND EXPLODES ... more in the future I suppose.
Have you ever noticed cracking with your topcoat? Which one?
Do you have flexible nails that tend to chip more with quick dry topcoats?